BRIGHT IDEAS – GRANT PROGRAM
Attention Teachers!  Lea County Electric is excited to offer a program that provides funding for innovative classroom-based education projects to teachers in the service territory.  The grants are intended to support projects outside typical school funding.  Grants are for classroom projects, not professional development or class trips. The maximum award per classroom project is $2,000.  This grant opportunity will be available annually. Teachers in grades K–12 from schools (public/private) in our six-county service area can apply. Refer to the application for further eligibility factors. This application will be available at the beginning of August and the deadline is the last Friday in August. 
Many Teachers develop innovative classroom projects but lack the funds to implement the projects.   Bright Ideas funds them. 
READ! READ! READ!
DO NOT INCLUDE the name of your school, school mascot, or county in parts 2,3, or 4.

YOU MUST USE THE 2023 FORM ONLY.  All applications must be typed.

DO NOT attach any supplementary material. Any supplementary materials will be discarded prior to judging. 

Grants are for up to $2,000 and should be used within 18 months of awarding.

Grants will be awarded to public and private school teachers teaching students in grades K-12 LCEC service area.

Grants are for classroom projects, not professional development or class trips.

All grant recipients are required to submit a report on the outcome of the grant project.

Teachers may only be an applicant of one project per school year. 

The application must adhere to word limits.

Applicants agree that their name, photo, and the project may be used in print, broadcast, and other forms of media and publications promoting the co-op.

Bright Idea Grants awarded the previous year cannot be resubmitted.

All applications must be received by the last Friday in August. 
Failure to follow the rules will automatically disqualify the application.
Eligibility:
Teachers in grades K-12 in the LCEC service area.

Projects must benefit students in grades K-12.

Teachers may only be an applicant of one project per school year.
Subjects:
Grants are open to all subjects.
Grant limit:
Projects can be funded up to $2,000, or they may be partially funded.  The maximum grant amount is $2,000.
Deadline:
All applications must be typed and received at one of Lea County Electric Cooperative's three offices by the last Friday in August.  You can email your application to memberservices@lcecnet.com or mail it to P.O. Drawer 1447, Lovington, NM 88260.  Applications received after the deadline will not be considered. 
Thank you for your interest in the Bright Ideas education grant program.  Please review the information below before continuing.  We hope that you will find the application process simple and convenient. 
You will need to include the following information in your Bright Ideas application:
School and personal contact information

Correct e-mail address

Project information

Population served

Goals

Needs & Benefits

Implementation

Creativity

Innovation

Evaluation

Budget

School principal's approval
Gather your facts. Grants are not awarded on goodwill alone. Justify your needs and the strength of your proposed project through data and research citations whenever possible.

Get the necessary approvals. Ensure your principal is aware of your application, approves of the project, and provides support as needed. 

Avoid jargon. Always spell out acronyms and explain terms that non-educators may not understand (TLW, SST, SIP, ED, BED).

Be compelling, but don't overstate your case. Make sure the readers understand your needs and that you have the capacity to address those needs through the proposed project.

Keep it simple. Grant reviewers usually read stacks of proposals in a short amount of time. Don't overwhelm them with confusing text or graphics.

Revise and edit, revise and edit, repeat. Know that your first draft will not be the last. Take the time to develop the idea into a comprehensive project plan.

Have an outsider proof your work.

Always review guidelines one more time. Make sure you follow the recommended guidelines exactly (format, page limits, budget information).

Good grant writing = Good writing. Writing for grants is very similar to writing any project plan. With the appropriate time and effort, you can be successful!

Call the Cooperative if you do not receive a verification e-mail after submitting your application.

Late applications will not be considered. Look up your school to view the deadline and maximum grant amount available.

If you are requesting technology or equipment for your classroom, be sure you outline an innovative project idea in which the technology or equipment will be used. 

Please be aware that Bright Ideas funding cannot be used for field trips or to fund travel expenses/fees for guests or speakers coming to your school.
Uses innovative, creative learning experiences for students (30 percent)

Provides instructional experiences otherwise unavailable (20 percent)

Involves teamwork (15 percent)

Directly involve students (10 percent)

Clearly defined goals and learning objectives (10 percent)

Provides an adequate budget summary (5 percent)
1.    When will I know if I have been awarded a grant?

Awards will be announced during October.

2.    Who judges the application?

A panel of judges reviews the applications and ranks them based on creativity and benefit to the students.  Because the evaluation process is competitive, partial funding may be awarded to allow more students to benefit from this program. 

3.    Does the Cooperative accept applications from private schools?

Yes, funding is available for all area schools in the Cooperative's service territory.

4.    If a teacher leaves a school, are the supplies purchased with Bright Ideas grant theirs, or do they belong to the school?

Should a winning teacher leave a school, the supplies and/or equipment purchased with a Bright Ideas grant are the school's property.  Since Bright Ideas grants are awarded based on the need and number of students benefited.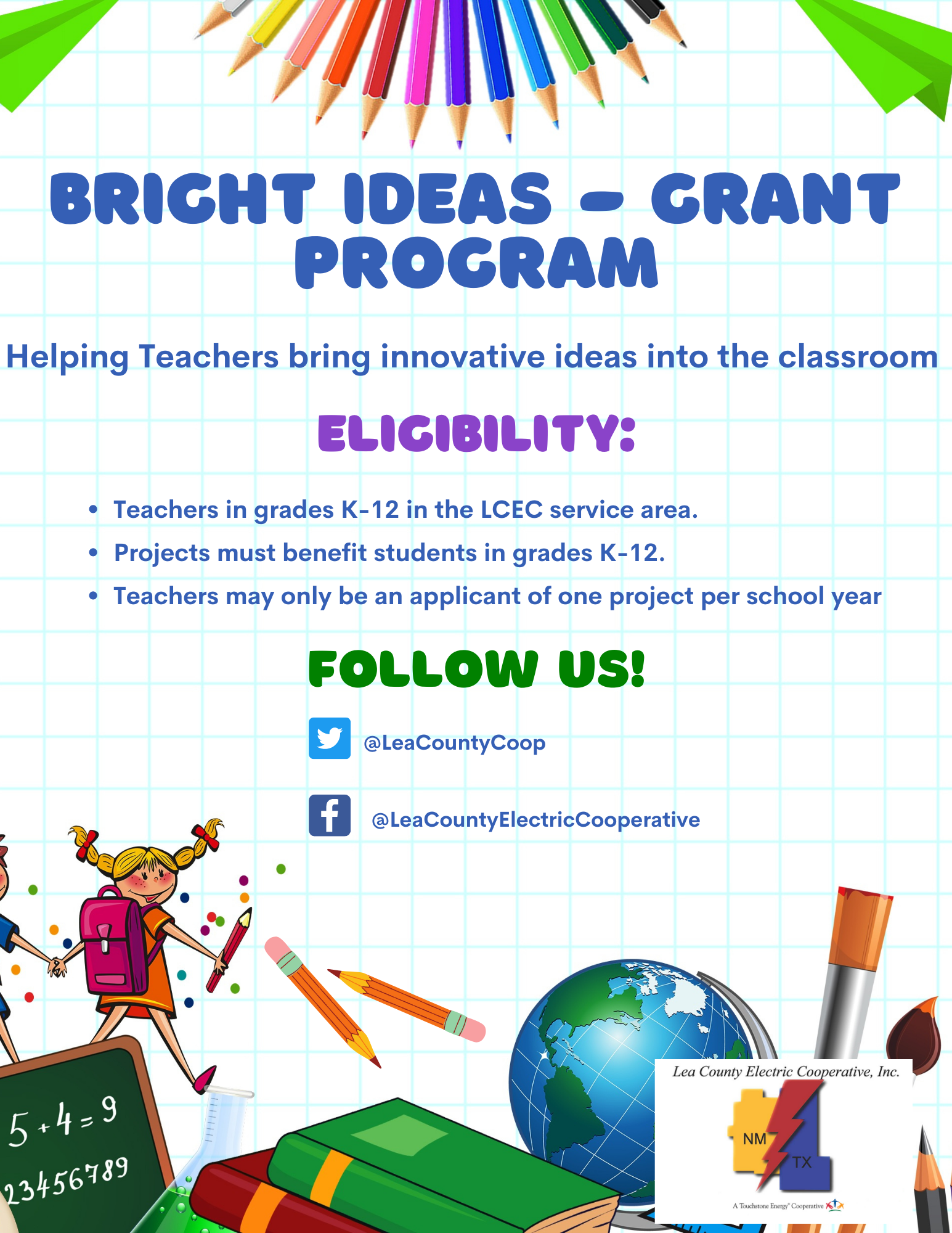 Sponsors:
The Lea County Electric Education Foundation.  Lea County Electric Cooperative, Inc., a Touchstone Energy member, is a not-for-profit, consumer-owned power cooperative providing electricity to more than 16,000 consumers in parts of Chaves, Eddy, and Lea Counties in New Mexico and part of Cochran, Gaines, and Yoakum Counties in west Texas. 
Questions:
Call Celeste Holt at 575-396-9622 or e-mail at memberservices@lcecnet.com.